Gensets
Looking for a genset? Then you have come to Harbour Reefer Service in Rotterdam. At our depot we carry out all kinds of work on gensets, which are also called generator sets. Gensets are used within the transport and storage world as a power supply for shipping containers with a refrigeration unit. But what is a genset and what does it do exactly? We explain that to you!
What is a genset used for?
A genset is used as the power supply for a shipping container with a cooling unit, also known as a reefer container. These containers often contain goods that must remain at a certain temperature, such as foodstuffs or medicines. On a ship, these containers are connected to a power supply if possible, if not, or when a container is transported it will run on fuel. The gensets then serves as a power supply based on fuel, so the container can be continuously supplied with power.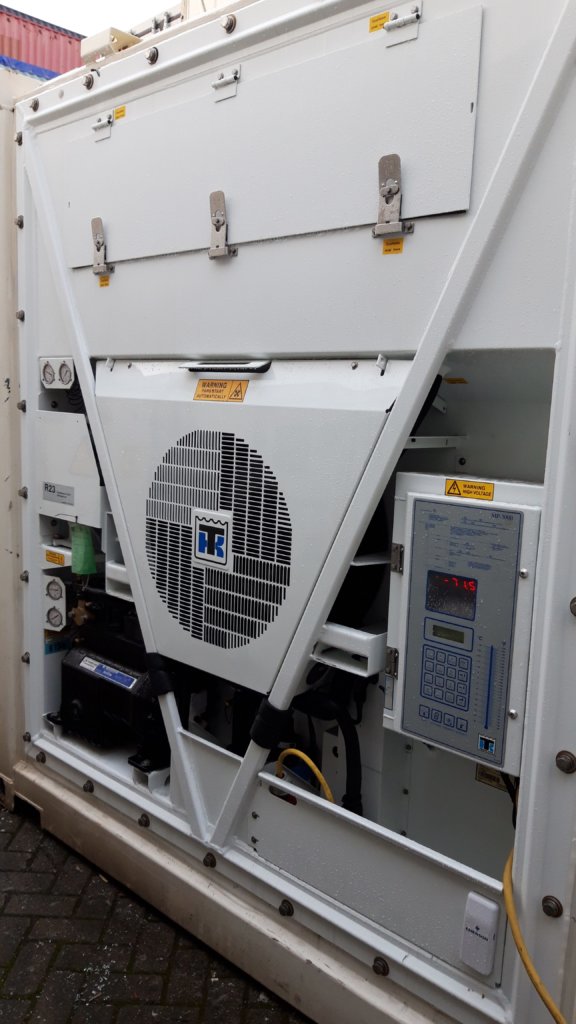 How do container gensets work?
Most of the time a genset is driven by a fuel-driven engine or by an electrically driven engine. On a container ship, the genset is connected to the ship's electricity, while during transport the fuel engine is used to generate electricity.
There are two kinds of gensets
In the transportation world, there are two commonly used genset types, the clip-on generator set and the underslung genset. A clip-on genset you'll find on the frontside of a shipping container where the reefer unit of the container is located.
An underslung genset is permanently mounted to the chassis of the trailer of a truck. The big advantage of this is that it basically remains mounted in the chassis. An underslung genset therefore does not need to be (dis)assembled when changing the container.
Gensets services
At Harbor Reefer Service, we are dedicated to providing genset services. All these services are performed at the HRS depot on Theemsweg in Rotterdam, at the DR locations in Rotterdam and Antwerp and also at third party depots and terminals in the vicinity of Rotterdam and Antwerp. Due to the size and location of these locations, we can provide an efficient and high-quality service for your genset container.
Genset maintenance & repair
Maintenance and repair is the core business of Harbor Reefer Service. We are also specialized in modification and refurbishment of gensets from all major manufacturers/brands. Should repairs be required, this means that parts are shipped directly from stock to a location of your choice. We can supply both individual parts and complete spare parts kits. In addition to original parts, we also supply reconditioned or used parts so that we can offer our customers the most economical repair possible.
24/7 services
Faults or other defects in a genset machine can occur at any time of the day. Fortunately, HRS has a 24/7 breakdown service that our customers can rely on. In this way, problems with gensets can be solved as quickly as possible, at any time of the day. The 24/7 service specifically means that a technician tries to diagnose and identify any problems by telephone. We will then try to solve the malfunction together by telephone, if this does not work, the service engineer will still come to the location to solve the malfunction.
Special projects
When customers have different wishes for gensets, we support them with special projects. Our technicians are always willing to advise customers of in-depth knowledge and expertise and to support projects involving re-engineering, installation of peripheral equipment and modification.
Storage
In addition to the aforementioned services, we offer customers complete storage and container repair facilities for all containers in collaboration with our partners Alconet and Holland Tank Service. With 40,000 m2 of storage area, the depot on Theemsweg in Rotterdam has sufficient space and is also centrally located in the port of Rotterdam with access to highways and waterways.
Buy or rent gensets
Are you looking for: maintenance, repairs, modifications or renovations to be carried out on your genset? Then you have come to the right place at Harbour Reefer Service! Are you curious about the possibilities or do you have a question? Please contact us by phone: +31 181 234 244 or email info@harbourreeferservice.nl