Dimensions 40ft reefer container
Reefer containers, gensets and reefer units are available in various sizes. We get questions about these dimensions on a regular basis. On this page we explain the 40ft reefer dimensions!
What is a 40ft reefer container?
A reefer container is used for refrigerated storage and transport of goods. In many cases they are used for fresh food products and medicinal goods. Reefers, also called refrigerated containers, are designed in such a way that the cooling of the goods happens efficiently. Firstly, the container has a reefer unit. This is a machine that ensures that the internal temperature of the container is regulated. Cooled air circulates through the container. A reefer container is isolated much better than a regular shipping container so that the reefer uses its energy efficiently.
Furthermore, the internal design of the reefer contributes to this energy efficiency. The T-floor in reefer containers makes it possible to cool products also from the bottom up. The picture below shows the T-floor from internally.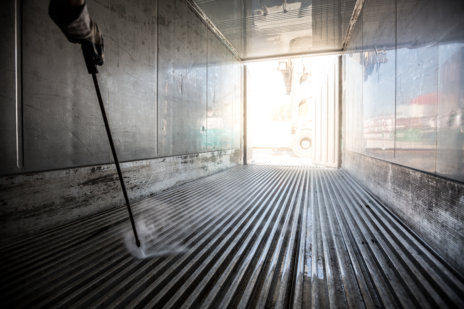 Dimensions 40ft reefer container
A reefer container is most often available in three different sizes: 10ft, 20ft and 40ft. A 40ft reefer container offers the largest storage space, but a high cube model offers slightly more. A high cube container is about 30 cm higher.
The internal dimensions of a 40ft reefer container high cube are:
Length: 11,590 meter
Width: 2,294 meter
Height: 2,557 meter
The external dimensions of a 40ft high cube reefer are:
Length: 12,192 meter
Width: 2,438 meter
Height: 2,896 meter
The dimensions of a reefer container can always deviate from the sizes mentioned above. This is an indication of the most common reefer container sizes.
Maintaining 40ft reefers
At Harbour Reefer Service we are specialized in maintaining and repairing reefer containers and gensets. We test all reefers by means of a PTI and we make sure that all needed maintenance gets done. Do you want to lean more about our reefer services?